Bringing Nature Back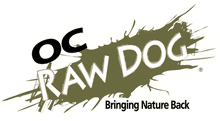 Bill's Wonderland of Pets is proud to carry OC Raw Dog in Magnolia, New Jersey. OC Raw Dog uses only premium ingredients—all natural, whole muscle and organ meat, and farm fresh produce—with absolutely zero indirect or direct preservatives, chemicals, fillers or grains. The result is healthier, happier dogs.
Dog Food
Canine: Raw Dog Food, Freeze Dried Dog Food
Visit Bill's healthy store for pets.