THE NATURALLY WHOLESOME TREAT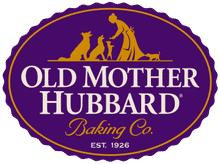 Bill's Wonderland of Pets is proud to carry Old Mother Hubbard in Magnolia, New Jersey. Old Mother Hubbard was founded in 1926, but our roots extend back to 1873 as A. Hubbard & Son bakery in Gloucester, MA. makers of hard tack sea biscuits. One day a local sailor threw a biscuit to his dog who happily gobbled it up.
Visit Bill's healthy store for pets.