"WORLD'S BEST PULL CONTROL SOLUTIONS SINCE 1989 "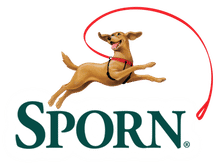 Bill's Wonderland of Pets is proud to carry Sporn Pet in Magnolia, New Jersey. At first, the idea of a dog day care seemed like a strange idea to many, but this idea soon spread throughout New York City, then the country, and now the world. Featured on NBC, in The New York Times, The Daily News, Pet Product News, and dozens more media outlets all over the world, today more than 19 million dogs attend daycare worldwide each month.* As our design office has been located above Yuppie Puppy Pet Care, all employees of The Sporn Company have found plenty of time to interact with the dogs and their owners. For this reason, you will find only fresh and original product ideas from The Sporn Company that cater to dogs, owners, and their needs.
*APPA® American Pet Products Association
Dog Product
Non-Pull Mesh Harness
Ultimate Control Harness
Original Sporn Halter
Big Dog Halter
Easy Fit Harness
Non-Friction Leash
ID Collar
Head Halter
Training Leash
Double-Dog Coupler
Double Dog Leash
Marrow Chew Bone
Marrow Ring
Marrow Tug
Marrow Heart
Visit Bill's healthy store for pets.