Human grade dog food brought to you by grade A humans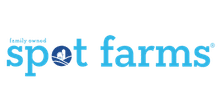 Bill's Wonderland of Pets is proud to carry Spot Farms in Magnolia, New Jersey. At Spot Farms we set out every day to make the best treats for your dog using the finest ingredients available. We partner with farm families across the country to bring you the very best regionally grown, antibiotic-free chicken, turkey and pork. We cook our treats using wholesome all natural, human grade ingredients* that are sourced in the US. We take a lot of pride in the treats we make and think your dogs will taste the difference!
Spot Farms treats are proudly made in the United States using regionally sourced, high quality ingredients. To ensure exceptional quality, our treats start with USDA approved meats raised on family farms here in the United States. We then carefully cook all of our treats in small batches in our US kitchens, using simple, wholesome recipes your pet will love.
Dog Food
Chicken & Whole Grain Recipe
Grain Free Beef Recipe
Grain Free Chicken Recipe 
Grain Free Duck Recipe
Grain Free Pork Recipe
Grain Free Turkey Recipe
Turkey & Whole Grain Recipe
Dog Treats
Chicken & Sweet Potato
Chicken Apple Sausage
Chicken Jerky Hip + Joint
Chicken Jerky Skin + Coat
Chicken Jerky with Flaxseed & Vitamin E
Chicken Nuggets
Chicken Strip with Glucosamine & Chondroitin
Cranberry Sweet Potato Turkey Jerky
Duck & Pumpkin
Duck Tenders
Duck Training Bites
Duck Training Stix
Visit Bill's healthy store for pets.