There is no such thing as too many pairs of Doggles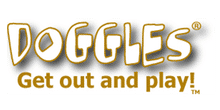 Bill's Wonderland of Pets is proud to carry Doggles® in Magnolia, New Jersey. We are famous for Doggles - goggles for dogs - the first and only eye protection designed and created just for dogs! Our standards are high, and you will see this in each and every one of our products.
We are market leaders in the design and manufacture of tough and durable and yes, even ""green"", dog toys. Please be sure to check our offerings in the toy category as you look through our site.
Our outdoor line has won the praise of many an outdoor enthusiast as we continue to grow and improve the line.
And of course, our fashion sense has never ended as we are always adding and improving to our fashion harness line.
Dogs Product
Eyewear
Doggles ILS
Backpacks
Beds
Boots
Bowls
Carriers
Flotation Jackets
Hats
Insect Repellent Apparel
Harnesses
Health
Jewelry
Toys
Visit Bill's healthy store for pets.